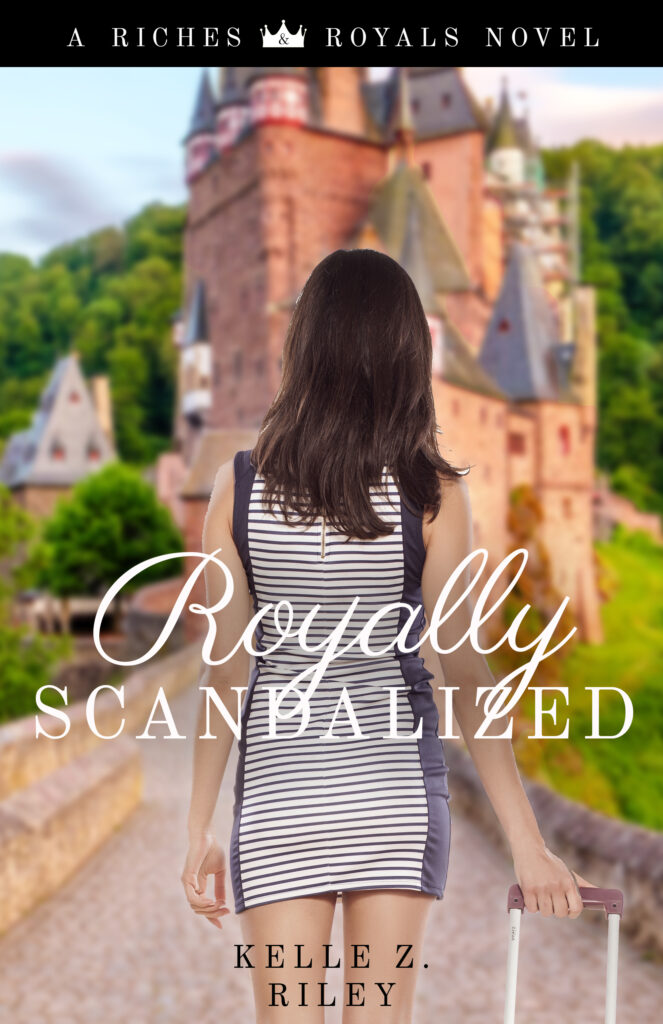 Royally Scandalized
She never wanted to be a princess, but if the crown fits . . .
After her father's fatal car crash, Jill stopped believing in dreams. Until she became unwittingly embroiled in the politics of the contemporary Kingdom of Melesia and fell in love with a prince. But her commitments to her family and his duty to his country stand in the way of a happily-ever-after. After all, fairy tales don't come true in this day and age. Or do they?
Available at the following retailers:
Prince Constantine Phillippe Ramon D'Malia resisted the urge to pull his shoulders back with military precision. Instead, he slouched beneath his poorly tailored suit coat and ignored the brush of his longer-than-normal hair against his brow.
People saw what they expected to see. His disguise—thin as it was—had allowed him to pass for a tourist many times since he'd learned the trick from his friend Clayton McClaine.
Today, the disguise was critical to his mission. He reached into his suit pocket and pulled out the black-frame glasses his brother had given him as a joke. Well, why not? It always worked for Superman. He slipped them on.
At his side, his aide whistled softly, breaking his concentration. Constantine squinted through the clear lenses and followed the man's gaze to the tall, leggy brunette exiting a bank of elevators on the other side of the cavernous office building. Her tailored, red power suit revealed a generous portion of leg and more than a hint of tight, sculpted curves.
"Look at that one, Your Highness. A woman like that could make you forget this cold Chicago wind."
"Yes, she's a beautiful woman." Constantine watched her glide across the marble foyer, imagining everyone in the twenty floors of windowed offices flanking the foyer stopping to look down at her.
He turned to his friend and long-time confidante. "Remember, Edmund, don't address me as 'Your Highness' in public. Until we find the stolen Crown Jewels, I'm a low-level accountant here to audit the books and learn about our stake in the import business."
"That's a pity. A royal title could convince her to warm your bed within a week."
"You underestimate me. It's not the title that lures them to my bed. Or keeps them there."
"Maybe it's your fabulous wealth."
"It's neither." Constantine turned his full attention to the woman, who was almost within earshot.
"Care to make a wager on that?" Edmund's lilting Melesian dialect was no louder than a whisper. "A thousand U.S. dollars says you can't tempt her into your bed without resorting to either title or money."
"Interesting theory," he replied, switching to English as the lady came face-to-face with them. "Good morning, beautiful one," he said, deliberately letting a thick accent flavor his words. The smile she gave him didn't quite reach her eyes, but, like a poised diplomat, she didn't flinch at his greeting.
He took her hand offered for a cool American handshake, and raised it to his lips instead, lingering over the soft satin of her knuckles while he enjoyed the view. Her neck was slender, its elegance enhanced by a deceptively simple necklace nestled in the hollow of her throat.
His pulse quickened at the sight and all that it implied, confirming his suspicions about the woman. He shoved the thoughts aside and continued his perusal.
More soft, creamy skin was perfectly framed by her tightly buttoned suit coat. Its deep V neck covered just enough to be decent and exposed just enough to whet his imagination.
Black, he thought, momentarily distracted from his purpose. A woman like her would wear only black lace beneath that jacket. As if she could read his thoughts, a blush crept along her skin, delicate pink against the vibrant red silk. He lifted his head but kept her hand in his.
"I am Phillip Raymond, and this is my associate Edmund Russell. I believe you are expecting us."
"Yes, I…" she tugged her hand free. The slight breathlessness in her voice was at war with the frank, assessing look in her eyes. "I'm Jill Bradley. I'll be assisting you during your visit to McKinley and Company Imports. If you follow me, I'll introduce you to the staff and show you to your temporary offices."
She motioned to the elevators, her smile completely cool and professional. Only the pink flush peeking above her neckline and the fluttering pulse in her throat indicated she'd had any reaction to him at all.
But for Prince Constantine Phillippe Ramon D'Malia, second in line to the Melesian throne, and second-to-none in the art of seduction, it was enough.
The offices she led them to were adequate, and most importantly, private enough to conduct his investigations. An attempt at providing Melesian décor explained the royal green and gold furnishings and the potted palm tree withering in the chilly April sunshine that seeped through a lone window.
A portrait of his brother, posed in regal splendor against the backdrop of the Melesian flag, stared down at him from the wall facing the desk.
Constantine felt the involuntary clench of his jaw. Calling on years of royal discipline, he forced himself to relax. His half-brother, King Alexander Augustus Tyronne D'Malia, had been splendid on the day of his coronation five years ago. Now he was gaunt, crippled by disease and pain, his tragic legacy from the king before him.
I shall not fail you, brother. He executed the formal half bow to the portrait as he repeated his silent vow. Beside him, Edmund did the same. Jill stood to one side, respectfully quiet.
"Miss Bradley, I thank you for this touch of home. Your kindness is appreciated."
"Melesia is always in the heart," she said softly in his native tongue.
"You know our national motto? And in our own language? I'm impressed, Miss Bradley."
She shrugged, the self-deprecating gesture at odds with her power suit and its come-hither neckline. "I host all of the firm's international clients when they visit. I'm conversant in most European languages, and I speak three of the seven Melesian dialects."
"Three?" He didn't try to hide his admiration. "Most natives speak only one or two dialects—from the islands closest to their homes. And those outside of the islands rarely learn our language at all. You are, indeed, gifted."
"It's nothing special, really. Languages are easy for me." But despite her protest, a smile tugged at her lips and she glanced down, looking, for a moment, almost shy.
Constantine shrugged the image aside. He couldn't be distracted by the blushing schoolgirl act. Nor would he be seduced by the vixen in red. He studied her, slowly sweeping his gaze from her head to her toes and back again until it came to rest on the filigree necklace with its tiny diamond chip nestled in the hollow of her throat.
The necklace. His mission. It was almost too easy. This woman quite likely held the key to his country's future and stability. With luck, he could be on the way home within a matter of days.
Yes, Jill Bradley was more than she appeared. Yes, she was a woman with secrets. But he was a man with power and purpose. She'd already shown she wasn't immune to him. He would use his charm and any other weapon at his disposal, to uncover each of her secrets. Starting with why the filigree setting of her necklace had the royal insignia, forbidden by ancient law and modern tradition to all but members of the Melesian court, woven into its design.
For everyone who grew up falling in love with the story of Cinderella. This book so perfectly fit the mood of what I wanted to read right now. There's an undercurrent of suspense and intrigue, but the main body of the story is all about Phillip and Jill falling in love and the obstacles they face. Also, keep the tissues handy, just in case. The epilogue is beautifully poignant and almost left me ugly crying over it.