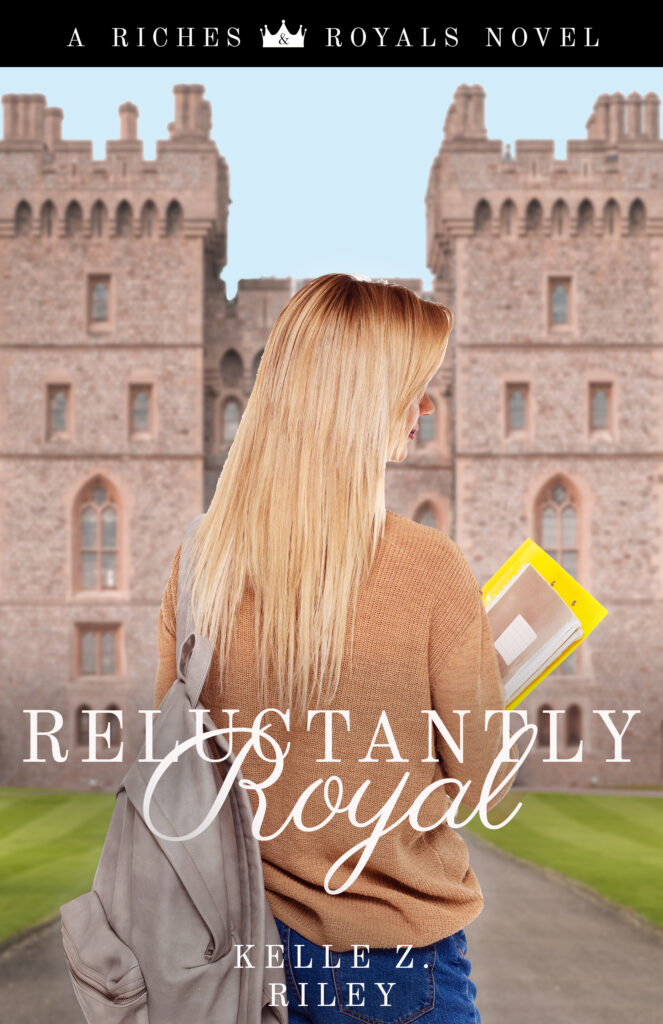 She'd stopped believing in fairy tales until Prince Charming stormed her ivory tower . . .
Gracie lost her father, her sister's friendship, and her confidence in a single night. Now, her academic research in her sister's new home—the Kingdom of Melesia—gives Gracie a second chance. But when she falls in love with the king's brother, she'll have to risk both her heart and her privacy to join him in his world. Oh, and there's just a couple of other little things. She must break a promise. Admit to a betrayal. And possibly stand trial for treason. Can love conquer all? Or will Gracie lose her chance to become reluctantly royal?
Available at the following retailers:
June, the royal wedding of Constantine Phillippe Ramon D'Malia
Gracie tightened her fist around the locket as her gilded carriage wove its way through the streets of the island kingdom of Melesia. The familiar shape soothed her frazzled nerves and provided a tiny piece of home amid the foreign finery.
Today's fairy-tale regalia was nothing more than an illusion, broadcast via satellite to every cable channel in the world. She straightened her shoulders and ignored shouts from reporters, cameramen, and film crews along the parade route, focusing instead on the coach at the head of the parade where her sister and new brother-in-law rode in regal splendor.
Her sister, Jill, made a radiant bride. She would have anyway, even if it had been a regular wedding, rather than a royal wedding to Constantine D'Malia, king of an important Caribbean archipelago.
Thank goodness Gracie's official part in the festivities was over. She rubbed her thumb along the worn gold of the locket that she'd let her sister carry during the wedding ceremony. The chatter of the strangers in the coach beside her faded into insignificance. Their smiling faces and crowd-pleasing waves blurred before her eyes.
Twelve years rewound themselves in her memory, taking her back to the year she turned eight. To the week her father gave her the locket. When he was still alive. When she and Jill giggled and shared secrets.
Now, all she had of her father was a faded photo. And her sister was a distant stranger. Despite occasional strained words of affection, Gracie wasn't sure they even liked each other anymore.
The carriage bumped to a halt, bringing Gracie back to the present and landing her smack dab in the middle of reality. The bizarre reality of a royal wedding. A footman helped her down the single step and into the media frenzy below.
Her chest tightened, the beat of her pulse pounding the air from her lungs as they closed in, scraping away her defenses like piranhas peeling flesh from a victim. She forced her lips to curve, shielding her raw, private emotions from exposure. She'd never let someone record her vulnerability again. She breathed, relaxing the tightness as she sailed forward, head high.
The wedding party wound its way through the Grand Hall, past the Queen's Gallery, and toward the ballroom. Gracie's steps slowed. Royal cousins and Melesian nobility swept past her and up the stairs to the balcony, following the bride and groom.
Gracie clutched the locket and kept her smile in place. A few more seconds and she'd be out of media range. A minute after that, she'd be plain Gracie Bradley of Ohio again, not the royal bride's half-sister. An hour from now, she'd be immersed in a book and the morning would be an uncomfortable memory.
She eased toward an exit leading away from the ballroom. A few more seconds…
"Miss Bradley?"
Gracie turned. She cast a longing glance at her almost-escape route then braced herself as a reporter headed her way, cameraman in tow. The king's younger brother and presumptive heir, Crown Prince Stephan, intercepted them. Flicking her a dismissive glance, he edged between her and the reporters.
His assessment stung. Apparently not even professional makeup, hairstyling, and designer gowns made her acceptable. Gracie bristled at his high-handed treatment, but his words brought her to her senses.
"Ladies and Gentlemen, if you have a moment, I'd like to introduce you to the bride's sister." Gracie's younger sister, Amber, stood by his side, glowing with all the innocent enthusiasm of a seventeen-year-old charmer. The press, from the looks of it, loved her.
Gracie slipped out of sight until a masculine laugh drew her attention back to the ballroom. A handful of reporters converged on Prince Stephan as if drawn by his elegant gestures and easy smiles. Like bees to honey.
He laughed again, and Gracie took an unconscious step forward before she forced herself back into the shadows. Intelligent women did not fall prey to dashing princes. She was immune. Curiosity caused her rapid heartbeat. Nothing else.
She studied him, mentally cataloguing and analyzing each detail like a scientist observing a specimen.
His quick smile should have made him less imposing than the rest of the royal family, but instead, it accented the subtle authority that radiated from him. He demanded attention. He personified flawlessness. Polished shoes gleamed. A sharply pressed military uniform outlined his broad shoulders and lean torso. Not a single golden hair fell out of place.
As he chatted with the gathering crowd, expressions—humorous, interested, intrigued, concerned—flitted across his face, each fading away leaving his smooth honey-gold skin unmarked by emotion.
Until he turned in her direction.
A sharp, irritated frown puckered his brow, and his lips tightened. The full force of his disapproval hit Gracie in an instant, even as he turned away, his features resuming their normal composure.
A rush of heat, fueled by anger and embarrassment, washed down her body, leaving her lightheaded in its wake. How dare he judge her as unsuitable? His polished perfection embodied the royal image, but she was a woman of substance, not image.
In the world outside the glass bubble of the monarchy, her intelligence would trump his sophisticated smoothness every time.
Gracie turned and took two firm strides down the hallway and out of sight before kicking off her shoes and allowing her shoulders to slump in relief. The anger seeped from her body, leaving her disgusted with herself for staring at him like a star-struck teenager. She took a deep breath to calm her racing pulse and restore her analytical world view.
With luck, she could avoid any further encounters with the overbearing prince during her short stay on Melesia. And when she returned in the fall, she'd be nothing more than another transfer student, finishing her degree, awaiting graduate school, and best of all, living in the dorms far from the influence of the royal D'Malia family.
5 Stars  MORE THAN A TOUCH OF CINDERELLA's MAGIC
Much like her sister's story [Royally Scandalized], Gracie's book has more than a touch of Cinderella's magic to it. [The heroine] is relatable because Gracie is SO endearingly socially awkward. There's a lot of terrible, tragic stuff that went into making that awkwardness, but it was in her discomfort that I connected most deeply with her. Stephan is just so adorable, I fell for him almost immediately. He doesn't always get it right, but he's so sweet and charming that it's easy to forgive him his foibles…  I adored these two together. Just a quick warning, approach the end of this book with caution, it's quite the emotional moment and left me just about bawling.