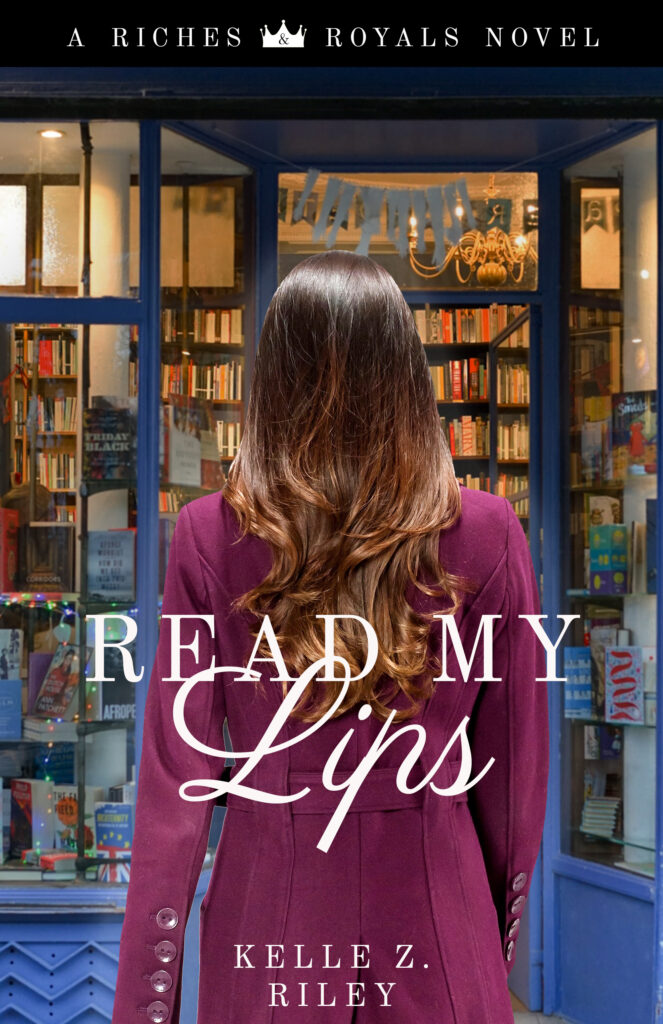 Temptation always leads to trouble…
Claire Lennox thought she could have it all—until trusting the wrong man destroyed her career, her reputation, and her heart. Now, as director of a literacy foundation, she has new ambitions. But when a sexy client tempts her to love again, does she dare?
Billionaire chocolatier Clayton McClaine risks everything—even his heart—when he goes incognito, hoping to overcome the dyslexia that haunts him and threatens to destroy his carefully crafted image.
They're perfect for each other, except for one little thing—the billion-dollar deception that lies between them.
Available at the following retailers:
Clayton Arthur McClaine glanced out the darkened limousine window. He turned to his driver. "O'Shea, you'd better be right about the disguise. If the paparazzi get wind of this, they'll have a field day."
"I've watched your back since third grade, boss. You'd think after the first twenty years or so, you'd start to trust me."
"If I didn't, Jimmy, you wouldn't be here."
Jimmy shifted in the seat, stripping off his sunglasses and looking him in the eye. "Clay, you don't have to do this. We've managed just fine until now."
"I can't keep counting on you to cover for me. Unless you want to give up your role as silent investor and move into the executive suite, I have to do this. I don't like putting our business in jeopardy. Our latest deal could triple our distribution network, but if I blow it, Milford Johnson will bleed the corporation dry. He goes after weakness like a shark after blood."
"So do you. What's the problem?"
Clayton rubbed his temples, wishing he could find another way around the dilemma. "Johnson senses something. He's insisted on closed-door negotiations. Just the two of us. A last-minute addendum could change everything. I won't have the luxury of funneling that paper through you or my secretary." Johnson was sharp. There would be last-minute alterations to the contract.
"I guess even a photographic memory has limitations."
"Phonographic, Jimmy. In my case, it's phonographic. I remember everything I hear."
"Whatever."
Clayton grimaced from the edge in Jimmy's voice then slipped from his warm limousine into the dank chill of the parking deck. Giving Jimmy a last cocky grin, he huddled into the frayed, plaid wool coat and pulled his ball cap lower over his eyes. "Wish me luck."
He jogged down the stairs of the garage and headed to the street. A gust of wind pierced his thin trousers and flimsy tennis shoes. Damn. April in Chicago is just as cold and rainy as it is in Huntersville.
But he'd grown from a scrawny kid going to work at the poultry farms and slaughterhouse into a man who had beaten the odds more times than he could count. He neared the small store-front office at the end of the block and steeled himself to meet the next challenge. And win.
A muted chime sounded when he pushed open the door. Across the room, two women sat side by side at a small round table. The younger woman excused herself and walked toward him, brushing a strand of light brown hair behind her ear as she crossed the room. The gentle sway of her hips and the hint of soft curves beneath her lightweight sweater almost made him forget why he'd come here.
It had been a long time since he'd been attracted to a woman. It had been even longer since he'd been in the company of a simple, unassuming one. Someone who wasn't trying to snag the title of Mrs. McClaine like it was a prize at the county fair.
A rush of nervous anticipation, the kind he hadn't felt since his high school days, flooded his senses. He didn't like the nervousness or the memories it evoked.
"Hi," she said, extending her hand. "I'm Claire Lennox. Welcome to the McClaine Literacy Clinic."
He forced his gaze away from her body and focused on her mouth, studying her small, perfectly white teeth and her pink, slightly chapped lips, rather than meeting her eyes. He shook her hand, swallowing his fear like a man downs a shot of whiskey, letting it burn into oblivion in his clenched stomach.
He raised his eyes. So help him, if he saw an ounce of pity or a flicker of recognition on her face, he'd be out the door before she could blink.
All he saw were innocent, brown eyes and her little, welcoming smile. He shifted his weight onto the balls of his feet and tensed, locking his gaze on her. No sense sugarcoating his condition with a fancy label. He was a bottom-line man. "I can't read. Much." He threw the words at her like a gauntlet and braced to meet her response.
"That's why the clinic is here. I'm glad you trust us to work with you. Unfortunately, my assistant is out for the day," she said, still smiling and looking as pleasant as if he'd said nothing more surprising than good afternoon.
"I'm working with a client right now, but if you could wait a few minutes, I'd be happy to give you my full attention. There's a video about the clinic, if you'd like to watch." She motioned to a small TV near a well-worn couch. "Have a seat, Mr. …"
"Artie," he muttered, the urge to fight draining from him. "Artie McC— Michaels. Artie Michaels."
She nodded. "I'll be with you soon, Mr. Michaels."
He slumped in a chair. Only ten minutes into the venture and he'd almost blown it.
"Clayton Arthur McClaine." He tensed at the sound of his name, spoken in a soft, hesitant Polish accent.
"Wait. You're not planning to read that article from People magazine today, are you?" Claire asked. Even though his back was to the women, he could picture Claire Lennox moistening her lips and leaning toward the older woman as she spoke, that troublesome lock of honey-brown hair falling across her cheek.
The knot in his gut eased slightly for the first time since he'd come up with the plan. Jimmy's suggestions about how to avoid the press just might work.
"Have you seen, Miss Lennox? Everyone wants to read 'America's Ten Most Wanted Bachelors.' Especially since Mr. Clayton Arthur McClaine of Chicago is bachelor number one." Excitement caused her accent to thicken and blur. "Look at this picture of him. A nice, young man with beautiful, thick hair, and a good strong jaw. Handsome like, like… evil."
"Do you mean 'handsome as sin'?"
"Yes. Sin. Handsome like sin. What that man needs is…"
"Let's skip the photos and focus on the words for today."
He heard the scrape of a chair and the rustle of magazine pages punctuated by the older woman's sigh. Clayton forced his tight body to relax. People see what they want to see.
He concentrated on keeping his shoulders slumped and his cap low over his eyes. Behave like a factory worker, and that's what she'll see. He kept his gaze focused on the dirty tennis shoes of his disguise, weighing his reasons to stay against his desire to go. Too much was at stake. The deal with Johnson opened the European markets. But with knowledge of his private struggle with dyslexia, a manipulator like Johnson could make him look like a fool, embarrass and, perhaps, even discredit him in the eyes of the business community. He had to do this now, before someone discovered his secret and exposed him as a fraud.
But there was more. Even his reason for being here was a fraud. He reached inside his thin coat, feeling for the letter he'd carried with him since the day he'd settled his mother's estate last fall. This was the real reason that drove him to the clinic.
The negotiations were a smoke screen. Handling his investors would be tricky, but not impossible. He'd handled scores of business deals on his way to the top.
He caressed the battered envelope, the wrinkles and creases of the once-crisp paper, a silent testimony to the times he'd tried to read his mother's last thoughts. She'd want her last message to him to be more permanent than a phone call. So she'd put it into words. Words he couldn't read. Words he didn't want anyone else to read for him.
Words.
The one thing he couldn't conquer.
Absolutely Brilliant Book ⭐️⭐️⭐️⭐️⭐️
This is book one in The Riches and Royals Series and it is Clayton and Claire's story and it is a must read. Omg this book was really insightful into the problems of Dyslexia in society and how it can take away the confidence from that person and also make them more down to earth and understanding and that is what Clayton suffered from but with help will be be able to overcome some of his struggles. Claire has her own baggage after trusting the wrong person that completely tore her world apart leaving her devastated and unable to trust but now she has a job as a director of a literacy foundation and that is where she meets Clayton who is a billionaire only he is going by the name Archie so that no one knows who he is and how much he struggles but as they get closer and feelings start to be involved will Clayton's secret tear them apart especially as Claire has gone through so much already only time will tell how it will all turn out for them. I absolutely loved this book and I couldn't put it down as it kept my attention right from the start. This is the first book that I have read by Kelle Z Riley but definitely not the last as it was so well written and definitely worth reading. (Booksprout Reviewer)
*****
If you enjoy whimsical romantic scenes where the protagonist and their love interest are really enjoying themselves and get lost in their imaginations, you will adore Read My Lips. This is a wonderful romantic comedy where the characters are well developed and the background conflict is engaging and entertaining.  https://theromancebloke.com/read-my-lips-by-kelle-z-riley-book-review/
*****
Loved this book! The characters and the story kept me reading until the end! I enjoyed the storyline and the characters throughout the book. Such a great read to get lost in. I highly recommend this book! Thank you for letting me review this book!  ⭐️⭐️⭐️⭐️⭐️ 5 Stars, NetGalley Reviewer
I honestly loved this book!! [A]fter finishing the first chapter I just knew I'd love it! I love the flow and the writing style. I could mentally picture every detail…  Great book!!!!  ⭐️⭐️⭐️⭐️⭐️ 5 Stars, NetGalley Reviewer
*****
I love the concept for this book! Its exciting and something different, not the typical rich guy romance books I've read before.  ⭐️⭐️⭐️⭐️ 4 Stars, NetGalley Reviewer
*****
[A] powerful story that delicately touches on the personal struggles and the associated stigma plaguing anyone dealing with dyslexia. The book also speaks to some of the injustices in workplaces where gender and authority dictates how far your career choices will take you.  This was a well written book that was not only powerful, enlightening and deeply emotional, but satisfactory in the end. I recommend this book.  ⭐️⭐️⭐️⭐️ 4 Stars, NetGalley Reviewer
*****
This was a cute and entertaining quick read. There was more to it than a simple romance. The story explores the literacy inequalities still very much prevalent in today's society. I appreciated the fact that the author explored this topic all while providing a secretive and romantic tale. Would definitely recommend.  ⭐️⭐️⭐️⭐️ 4 Stars, NetGalley Reviewer
*****
Looking for a fast paced heart pumping romance? Lovers of the secret billionaire trope, this one is for you. Clair and Clayton's love story will take you on an adventure you won't soon forget. This is an open door romance, with lots of steam and sizzle. So what are you waiting for? Grab your copy of Read My Lips by Kelle Z Riley today!  ⭐️⭐️⭐️⭐️ 4 Stars, NetGalley Reviewer
*****
A strong woman that doesn't need to be rescued meets a not perfect billionaire. Add in books and chocolate, what more could you want in a book?  ⭐️⭐️⭐️⭐️ 4 Stars, NetGalley Reviewer