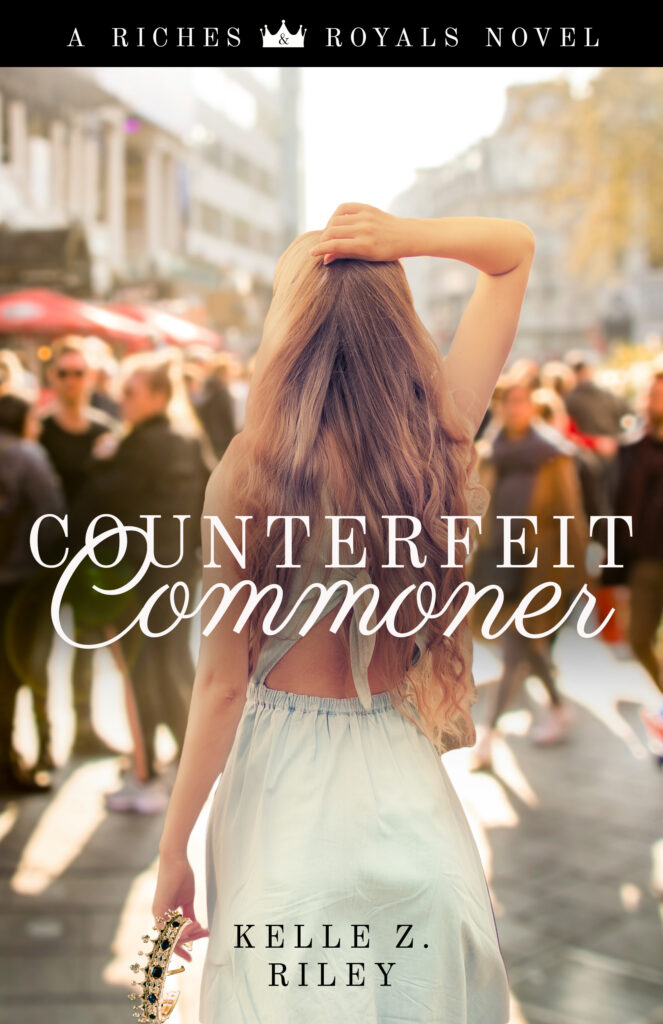 When she traded her tiara for a few days of freedom, she didn't expect to find herself—or to lose her heart to the one man guaranteed to break it . . .  
When Lady Sophia de Lyons, former fiancé to a king and protected daughter of the aristocracy, masqueraded as an American commoner, she didn't expect to fall in love. She gets more than she bargained for when the man of her dreams turns out to be the tabloid reporter of her nightmares. Can she ever learn to trust him after he betrays her? Or will they both lose everything in a desperate gamble for love?
Available at the following retailers:
June, the royal wedding of Constantine Phillippe Ramon D'Malia
Married.
Sophia sank into a brocade covered chair in the empty palace reception room, not caring that she crushed the hand embroidered skirts of her formal gown. Her fiancé, the man she'd planned to marry for her whole life, had finally tied the knot.
With someone else.
Relief surged through her in a giddy rush.
She bounced up and paced the wide room, flicking back a sheer, white curtain here, peeking around an open door there, reassuring herself that no one with a telephoto lens lurked nearby recording her uncontrolled exuberance. The swish and rustle of her skirts echoed off the high arched ceilings and frieze covered walls, accentuating her every step.
Sophia grinned. She could picture her scheming uncle—may he rot in prison—turning purple with rage. She'd slipped from his control. His shattered plans for her held no more menace than a thimbleful of salt in the sea.
She was free—for the first time in her twenty years. No politically obsessed uncle directing every tiny detail of her life. No formidable, distant fiancé looming over her future. No one.
She stopped abruptly, the whisper of her skirts fading into silence. If only she could avoid becoming a dancing marionette in someone else's schemes.
A faint cheer floated through the open French doors on a waft of sea-scented air. The island kingdom of Melesia, with its reputation for romance and fairy tale charm, teemed with visitors celebrating the new royal couple.
Sophia pivoted toward the sound, imagining the happy bride and groom stepping onto the presentation balcony, surrounded by lush island greenery, waving at the adoring crowds. Today everyone—tourists and natives, press and paparazzi—loved them. Tomorrow, who knew?
The people, as fickle as honeybees in a flower field, had buzzed around Sophia and her cousin Helena for years seeking vicarious thrills. But no more.
Now, King Constantine and his bride—formerly Jill Bradley of the United States, now Queen Jillian of Melesia—could deal with the crowds. Sophia was free.
At least until someone posted a blog or started a Facebook page dedicated to poor Lady Sophia de Lyons, the modern princess jilted by her one true love.
What— "bullshit." The word burst out, uncensored and wonderful. She giggled, liking the feel of the forbidden sounds on her tongue. She tried a handful of other swear words, each more tantalizing than the last. No one chastised her for behavior unfitting for a Melesian noble. No one—Sophia stopped at the sound of footsteps in the hall.
She raced back to her seat, smoothed her skirts and donned her mask of indifferent perfection just as the door opened. The bride's sister, Grace, entered, shoes dangling from her fingers with a casual carelessness that Sophia envied. If Sophia mussed her hair and slouched, could she become just another average blonde like Grace?
And if she could, what would it be like to not care how the public viewed you? Not to wonder if today's innocent gesture would turn into tomorrow's front page?
"Someone else seeking refuge from the crowds," she said softly. Sophia suppressed a smile as Grace snapped her head around, startled eyes widening. Grace's grip tightened on the shoes, turning her knuckles white as she edged away, gaze darting to the door. "I envy you," Sophia added quietly.
Grace hesitated, slowly facing Sophia again. "Why? You belong here. I'm just the bride's sister, dressed up and trying not to embarrass her."
"Exactly. Soon the press will forget you. They'll hound me for weeks, prying to see if my wounded heart is mended." Sophia sighed. Grace had been almost invisible since her arrival in Melesia. Sophia wished she knew the trick to being invisible. She wished she knew about life outside the palace walls.
Grace crept closer and perched near the carved arm of the brocade covered sofa, questions dancing in her eyes. "Was your heart really broken? Were you in love with Constantine?"
The blunt, intrusive question shocked Sophia. Until she remembered what freedom felt like. Bullshit, she repeated silently, enjoying at her new, blunt, reckless streak. Bullshit, bullshit, bullshit.
"Love was never part of the picture for us," she said out loud in her normal, boring voice. She rose and walked to the French doors—in her normal, sedate, boring steps—beckoning Grace to follow. "I envy him too. He broke the rules and found love. Alex and Helena are also in love," she said, referring to the ailing King Emeritus who'd recently abdicated in favor of his half-brother. "I'm just the spare bride who's now out of a job."
"I don't understand."
"How could you?" How could anyone who hadn't grown up a pawn to be married off for the sake of her family's political ambitions? She pointed to the new bride and groom. "Look. A royal wedding is a fairy tale come true. If I'd been on the balcony instead of your sister, the fairy tale would have unfolded in exactly the same way. Except the looks in their eyes are real. They love each other. He and I would have been pretending.
"I'm very good at pretending," she continued, voicing feelings she'd not dared to express until now. How easily a small taste of freedom unraveled a lifetime of control. "From the moment I came to live with the Duke de Lyons, he's prepared me to be the spare bride. He fed the press with enough romantic nonsense to fuel the illusion. I played along."
"What do you mean—the spare bride?"
"Royal sons are the heir and the spare. Alex was the heir. Helena was raised to be his bride. Constantine was the spare. I was the spare bride. At least that's what the duke planned."
"It must have been awful."
Sophia shrugged. "It makes a great story. Lady Sophia, Foster Daughter of The Disgraced Duke, Jilted by the Prince Who Broke Her Heart. The tabloids will adore it."
"If your tabloids are anything like ours, they'll have you engaged to someone else within a week."
She shuddered, recognizing—and hating—the truth in Grace's words. "Of course. When Alex abdicated in favor of Constantine, I suppose Stephan became the next spare. One brother should be as good as another. But I don't wish to be bounced from prince to prince until the public gets its next big romance."
Sophia glanced at Grace. Years of decorous protocol, pounded into her by everyone from her uncle down to the castle cook, warned against speaking openly to this near stranger.
Bullshit.
The rebellious voice won. "I'm tired of being controlled by the papers. And by my family. And even by the king. I want a life of my own."
The American didn't flinch at her shocking words. Sophia envied her all the more. What would it feel like to be so unfettered by propriety?
The glint of sun off a camera lens made Sophia stiffen and move back inside, quickly this time. "Photographers," she explained to the wide-eyed Grace. "Tabloids. We're this week's entertainment."
If she were truly free, she'd march into the offices of the Weekly World Stir and give the reporter "Mack the Pen" a piece of her mind. And an imprint of her royal slipper on his backside. Or she'd live incognito right under his nose, invisible but happy, daring him to peel away her disguise. But no Melesian blue blood was that free. Not even the king.
"I see why you envy me," Grace said. "No one cares about the bride's brainy half-sister." Grace chewed her lip. A pensive gleam lit her eyes. "Do you ever want to just disappear?"
"All the time," Sophia replied, wondering if Grace had somehow read her mind. "I've made plans to spend a year abroad with Princess Lydia at her home in Europe. After that, I'll join a Melesian goodwill tour scheduled to visit Europe and the Americas."
It wasn't the escape she wanted, but it was better than nothing. "The press will speculate I'm nursing my broken heart. If I'm lucky, I can stay away until the next heir to the throne is born. When your sister becomes pregnant, I'll have a measure of peace. I will never have the freedom that you do."
"What if you could be someone other than Lady Sophia for a few days?" Grace paused, staring off in the distance. Sophia nearly squirmed with impatience. "Someone like me?"
Sophia stared at her, impossible fantasies swirling in her head, begging for the chance to become real. What if this brainy young American could come up with a better plan than a scripted, goodwill tour where her every move would be choreographed with brutal precision? Sophia would gladly give the de Lyons wealth—now under her sole control—for the chance to walk barefoot in the grass or eat a double scoop of ice cream from a dripping cone or swear in public without censure. She'd trade her designer gowns, Hermes clutches, and ancestral jewels if she could be invisible for a single day.
"You said the goodwill tour is scheduled to visit the Americas eventually," Grace continued. "If you could get away from the entourage while you're in the U.S., I could buy you a few days of freedom."
Sophia's heart slowed, its thud, thud, thud stretching between beats as if it were afraid of drowning out a single word that Grace said. Sophia held her breath. If Grace truly had a plan…
Sophia asked a carefully worded question. Then another. Skillfully she pulled information from Grace and planted suggestions in Grace's head as she'd done so many times in ballrooms and political receptions around the world. Then she listened, hiding a smile of triumph, while Grace created a perfect escape plan for her.
Later that day, Sophia sat in Grace's room staring at the United States driver's license in her hand, the triple-fast pounding of her heart making up for lost time.
She glanced in the mirror. The similarities between them were close enough to be believable. The plan Grace had outlined just might work. She clutched the pages filled with Grace's cramped script, detailing precise instructions for Sophia's escape from the tour and her return home. With nearly a year to refine and modify the specifics, what could go wrong?
For a few glorious, free days, she would become Grace Bradley, free to roam the United States at will. Free to sample all life had to offer.
"Hot damn." Freedom had never tasted so good.